Financial Elder Abuse via Fake Marriage
---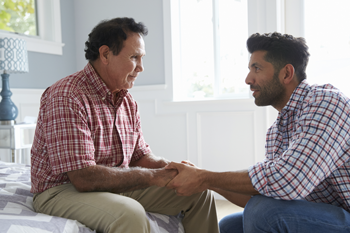 Fake Marriage as a Form of Financial Elder Abuse.
This post explores a form of financial elder abuse where the bad actor induces a romantic relationship with an elderly person in order to inherit their estate. Bad actors in elder abuse schemes often go to great lengths to bilk their victim, including getting married to the target.
In recent years, our probate practice has experienced an increase in cases challenging the validity of a marriage. A broad intersection exists between these allegedly "fake" marriages and financial elder abuse.
Typical Script for Abuse.
Many elder abuse cases follow a basic script: a lonely elderly person, often with assets but with some form of physical or cognitive limitation, is befriended by a stranger, sometime a care-provider. The care provider's daily presence provides a modicum of comfort and trust for the elderly person.
Romantic gestures or promises, or even a physical relationship supercharge the connection. Once sufficient trust has been established, the bad actor then procures a marriage license with the belief that they will be able to inherit at least a portion of the elderly person's estate as their surviving spouse.
The elderly target of the scam is often so grateful for the care and attention they let their guard down. They are usually isolated and cognitively at risk so no one counsels them about the value of a prenuptial agreement.
After the sham nuptials, the abuser will next attempt to convince their spouse that his or her estate plan needs to be revised to reflect their new marital status. Our law firm sees the consequences of such re-written estate plans; most often family members are cut out completely.
The Abuser Becomes the Surviving Spouse.
Here in Michigan, the surviving spouse has certain rights that may be elected against a decedent husband's will or estate plan. There is a statutory spousal allowance, a homestead election, and other statutory rights for the surviving spouse in the Michigan probate code. So even if the abuser was not successful in getting their target to redo their estate plan, they can make certain elections as the decedent's surviving spouse.
Lawyers are trained to be on the lookout for signs that the client is being manipulated or unduly influenced by a new friend, romantic partner or recent spouse. When there are acute signs of such abuse, the ethical lawyer will typically decline representation.
Common red flags for the discerning attorney include: wide-gap in age; the elder person's companion does most of the talking and answers most of the questions; the companion is uncomfortable allowing the elder person to be separated into a separate conference room. These are just a few of the signs that the elder person may be the subject of a scam.
When the abuser becomes the surviving spouse, or assumes a fiduciary role, they are in position to steal the decedent's estate under the ruse of an ordinary probate estate administration. This normally flushes out resistance from any of the remaining family members that are paying attention to their elder family member.
Undue Influence Over the Elder.
In the case of vulnerable individuals or protected individuals within the meaning of the probate code, family members or heirs often assert that the bad actor exercised undue influence over the elderly person. If the bad actor had a fiduciary or confidential relationship with the victim -such as a care provider- then a presumption of undue influence may exist.
Undue influence is a process that involves a pattern of manipulative behavior to get the elder to do what the abuser wants; it is not a one-time occurrence. Experts have noted parallels between undue influence and domestic violence, stalking and grooming conduct.
One model that seeks to define "undue influence" is the SCAM model: Susceptibility, Confidential Relationship, Active Procurement, and Monetary Loss. This model is useful as it focuses on the active procurement of the legal [i.e. marriage], the financial [i.e. co-signatory on a bank account], or both [i.e. convincing the victim to amend their estate plan to include the abuser among the victim's heirs].
Other models focus on opportunities for confidentiality, isolation and ultimately, the opportunity to steal from the target. Family members or other interested persons must keep in mind that every case is different and dependent on its own facts and circumstances.
Often, undue influence is mixed-up with or confused with "fraud" or "duress". Fraud deceives the mind whereas undue influence overwhelms it. Undue influence is usually a long process that involves multiple -sometimes daily- contacts with the victim that can take years to bear fruit.
High-Risk Factors of Financial Elder Abuse.
The common script seen by many lawyers is that a care provider, neighbor, or new friend gains the trust of the individual over the course of several months or even years. The care providing relationship or social relationship evolves into an emotional, romantic or even physical relationship.
This is the point where sham marriages sometime arise. Vigilance must be maintained over the at-risk individual. The problem, however, is that most at-risk individuals are at-risk due to the lack of anyone in their life that cares or is close enough to monitor events in the elder person's life as they unfold.
Like a stalker or a groomer, the elder abuser will select a target that is isolated and dependent. The elder person may have some form of cognitive impairment such as early dementia or may be heavily medicated.
The American Bar Association has identified the following list of factors that can lead to a predisposition for financial elder abuse:
§ Advanced age [over 75];
§ Unmarried, widowed or divorced;
§ Brain damage or closed head injury;
§ Cognitively impaired;
§ Physical, mental, or emotional dysfunction [i.e. depression];
§ Recent loss of spouse or companion;
§ Living with an unrelated person;
§ Living alone;
§ Social isolation;
§ Estranged from children or siblings;
§ Financial independence with no financial care taker;
§ Middle- or upper-class income level;
§ Multiple medications;
§ Physically frail; and
§ Fearful of changing their living situation.
This list is by no means exhaustive but if several of the factors apply, the elder may be a target of someone looking to inflict financial elder abuse. To the list, we would add: a recent marriage to a person that previously had a confidential or fiduciary relationship with the elder.
We Can Help.
If you or a family member notice an individual that is heading to the alter with some of the above risk factors, contact our office for a free consultation. You could prevent elder abuse, either through a sham marriage or in its many other iterations. Contact our office to assess your options.