Frank Briguglio
Attorney at Law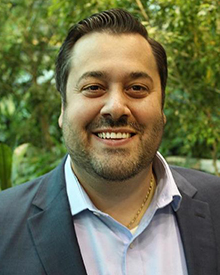 Frank Briguglio is a Senior Attorney at Clarkston Legal. Born in Los Angeles, California to Italian immigrants, at a young age he moved to Macomb County, Michigan where he has spent nearly his entire life. Mr. understands the impact that parents have on the family as his greatest heroes are his parents.
Frank's mother, Rose, grew up in a single-parent household. Grandma Stefana "Stephanie" had to raise her children without her husband and with limited English skills. Through her perseverance, she raised four children in Warren, Michigan. She worked as a seamstress and everyone chipped in to make ends meet. She was the rock of the family. It was her steadfast desire to instill a "family first" ethos in her children who maintain strong familial bonds to this day.
Mr. Briguglio also understands the important role that fathers have in a young child's life as Frank's father, Joe, has always been his biggest role model. His father came from a very modest upbringing in Southern Italy before he came to America with literally a suitcase and less than $100.00 in his pocket. Joe was a member of the Carpenters and Millwrights Union and built a comfortable life for his family through hard work, determination, and a good attitude toward each challenge life has thrown at him. Mr. Briguglio learned his work ethic by watching his father, a work ethic that serves Mr. Briguglio well in the courtroom.
Helping you build a better future —
for yourself and your family.
Mr. Briguglio is an alumnus of De La Salle Collegiate in Warren, Michigan. He received his Bachelor's in Business Management from Oakland University and his law degree from the University of Detroit's Mercy School of Law. Mr. Briguglio also holds a certificate in family law from the Institute of Continuing Legal Education. Frank has been nominated as a Super Lawyers "Rising Star" in family law, and a "Top Lawyer" by DBusiness.
Mr. Briguglio presently serves as the President of the Macomb County Bar Association. He is also a member of the Italian American Bar of Michigan and is actively involved in its events. Mr. Briguglio currently resides in Clinton Township, Michigan with his lovely wife Rita, who is herself a refugee from Iraq. Mr. Briguglio's relationship lends a unique insight into Middle Eastern culture and its views on the marital relationship and families. He is also the father two little girls who are the center of his world.
During his free time, he enjoys spending time with family and attempting improvements on his home, often with hilarious results.