High Conflict Divorce Brings Down State Treasurer
---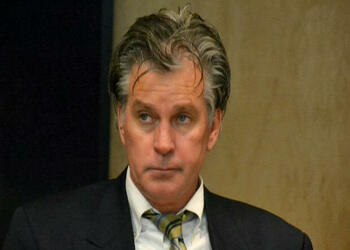 This was certainly in the works since last summer. Michigan Treasurer Andy Dillon resigned yesterday in the wake of continuing media scrutiny of his high-conflict divorce.
Dillon, a Democrat, was appointed as our state treasurer in 2011 by Republican Governor Rick Snyder. The appointment won Governor Snyder high praise for crossing party lines in the spirit of collaboration.
Too bad Dillon could not apply the same spirit of collaboration to his divorce dispute. In August, after an alleged alcohol-fueled argument with his ex-wife at their former marital home in Redford, MI, the family court litigants filed competing petitions for personal protection orders.
The affidavits attached to those petitions do not paint a pretty picture of Dillon as a family man. In the end, the Dillons' competing petitions wound-up in the lap of the Wayne County family court judge assigned to their divorce proceeding; the judge denied both petitions, opting for a mutual restraining order.
We here at the electronic divorce attorney prefer to handle divorce via the collaborative model. This is where both parties consult their lawyers, a family therapist or counselor, and perhaps a financial advisor prior to filing a divorce proceeding. The idea is to agree on all the issues after a thorough out-of-court vetting with professional input, sign an agreement that memorializes the understanding of the parties, and then file for divorce only when the entire matter is wrapped-up.
Unfortunately, the collaborative model does not work for all couples. Had Andy Dillon been able to deploy this model, he may still be our state treasurer instead of resigning in disgrace.
If you or a family member would like to learn more about the collaborative divorce method, contact our law office for a free initial consultation.